An Exquisite Italian Styling
If there is one thing Italian cars are known for, it has to be their styling. These cars are nothing short of a piece of art and look at home on the streets, on a race track, and even inside a museum. The Tonale carries forward the Alfa heritage effortlessly with a design like no other vehicle on the market. There is LED lighting all around, and the wheels look exquisite. The headlamps and taillamps' design is similar, and the taillamps run the entire vehicle's width at the back.
One of the most iconic design elements on the Tonale is the front grill which is in the signature Alfa Romeo design, the inverted triangle. The wheels, which appear to be 19 inches, also have a unique design. Other styling elements include somebody cladding running the entire length of the car on both sides, along with the small front splitter and rear diffuser, all finished in black.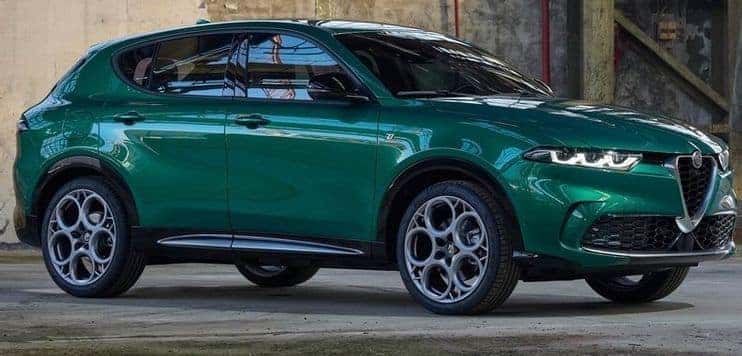 What's New for the 2023 Alfa Romeo Tonale?
Tonale is a brand-new model for the 2023 model year
Two powertrains are offered, including a plug-in hybrid
Stellantis' Uconnect 5 is standard, and all Tonale buyers get a non-fungible token with their purchase of the vehicle
Orders for the SUV will open in the fourth quarter of 2022, and shipments will begin in the first quarter of 2023
Alfa has released no pricing details
2023 Alfa Romeo Tonale Exterior
The Tonale's final design lands relatively close to the concept vehicle shown a few years back. The SUV features a sleek profile and Alfa's typically dramatic front-end design. Exterior dimensions are compact, as the Tonale measures 178.3 inches long, 72.4 inches wide, and 63 inches tall. Slim headlights flank the triangular grille with unique LED signature lighting elements intended to evoke memories of the Alfa Romeo SZ Zagato and Proteo concept car. Alfa notes that full-LED lighting helps preserve fuel economy and improve brightness. The units form the daytime running lights, turn signals, and offer a welcome and goodbye feature.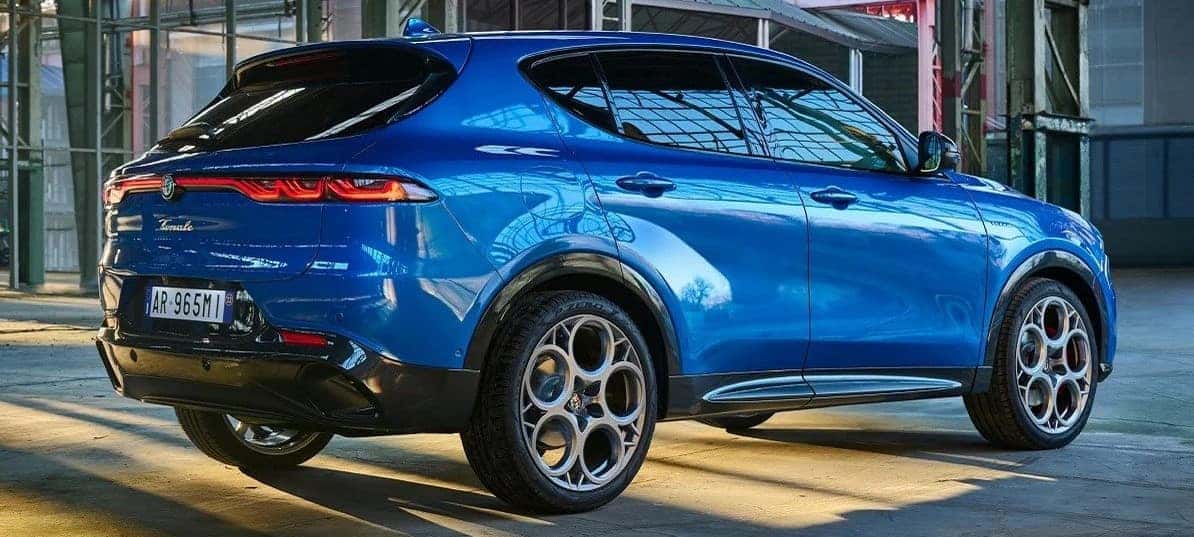 2023 Alfa Romeo Tonale Interior
The Tonale's cabin features a strong focus on the driver. Controls and displays are oriented toward the driver's seat and give easy access while the vehicle is in motion. Interior finishes are coated in unique patterns, and there are plenty of neat logos throughout the cabin to keep things interesting.
Alfa Romeo hasn't clarified materials and configuration specs for the various trim levels. Still, its press images show a classy interior with Alcantara or suede upholstery with matching accents on the dash and doors. The Tonale features a steering wheel-mounted start/stop button and a digital gauge cluster like its larger cousin, the Stelvio SUV.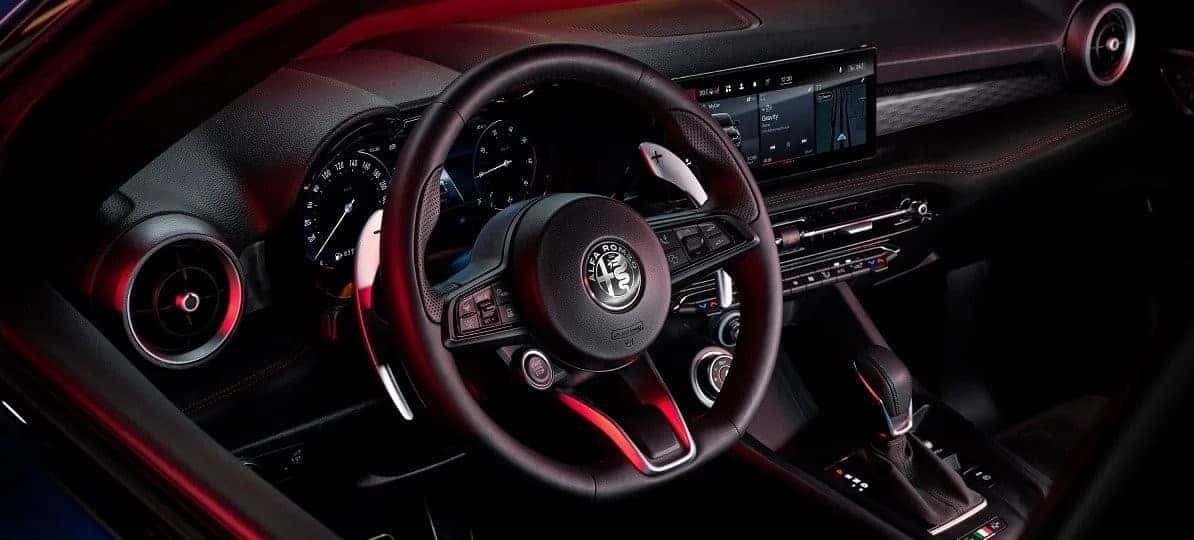 2023 Alfa Romeo Tonale Specs
The Tonale is available with two powertrain options. The headlining propulsion system here is a PHEV system that uses a turbocharged 1.3-liter engine with an electric motor on the rear axle that provides AWD. Combined output lands at 272 hp, and the system can deliver up to 30 miles of all-electric range.
A traditional gas powertrain is also available. It comes with a 256-hp turbocharged 2.0-liter 4-cylinder engine and a 9-speed automatic transmission. All-wheel drive is standard, and Alfa says the gas powertrain meets the conditions for a super-ultra-low emissions 30 (SULEV 30) rating.
Part of what makes Alfa Romeo and all performance vehicles special is their ability to change behavior using drive modes. The Tonale PHEV features three modes that impact its performance:
Dual Power (PHEV)/Dynamic: Maximum output from the engine and electric motor
Natural: Standard performance for everyday use
Advanced Efficiency: Pushes the vehicle into pure electric operation for the duration of its 30-mile range
2023 Alfa Romeo Tonale Safety
The Tonale is too new for crash-test results, but Alfa outlined its numerous standard safety features:
Adaptive cruise control
Automatic emergency braking with pedestrian detection
Blind-spot warning with rear cross-traffic alert
Driver attention monitoring
Forward-collision warning
Intelligent speed assist
Lane-departure warning
Lane-keeping assistance
Rear-seat reminder system
Traffic sign recognition
A Level 2 autonomous driving system is available, which means that the Tonale will be capable of steering itself and maintaining its speed in limited situations. The driver must be in the seat and ready to take control at any time. This is similar to how Cadillac Super Cruise and Tesla Autopilot operate.
2023 Alfa Romeo Tonale Technology
Stellantis' new Uconnect 5 system comes standard and runs on a 10.25-inch touchscreen, accompanied by a 12.3-inch digital gauge cluster. The system offers over-the-air updates, wireless Apple CarPlay and Android Auto, and Amazon Alexa functionality. Uconnect has long been one of the more intuitive and fluid systems on the market. The fifth-generation update brings a new user experience on the Android automotive operating system.
Connectivity with the Alfa Connect mobile app is standard, which brings the ability to lock and unlock doors, start the engine, call for help, and more. An "Assist Call" function lets owners contact a support line to learn how to use the Uconnect system, while a stolen-vehicle tracker helps police find the Tonale if a thief nabs it. Alfa also offers "Family Drive Alerts," which functions like GM's Teen Driver system by notifying parents when their young driver misses curfew, exceeds the speed limit, or travels outside a defined geographic area.
The big news for those who care about such things is that every Tonale comes with a non-fungible token (NFT). The non-modifiable record contains information about the vehicle's usage and maintenance records, and presumably accidents and other issues. Alfa says the NFT lends credibility to Tonale owners when they sell their vehicle, as it's a trustworthy record of the vehicle's backstory.
2023 Alfa Romeo Tonale Competitors
The 2023 Alfa Romeo Tonale will compete with luxury models, including the BMW X1, Mercedes-Benz GLA, and Audi Q3.
Alfa Romeo is the source of information in this article. It was accurate as of February 8, 2022, but it may have changed since that date. Always confirm product details and availability with the automaker's website or your local dealership.